Well its confirmed, you can't have more fun while doing something good for others. Its true, we looked it up. We might ramble and jump around a bit here but we want to fill in a few blanks that we couldn't while on the road.
iPhone, WordPress, And Other Technology: The HP photo printer we purchased to print pictures for the kids at the event worked great. It was spitting out photos as fast as we could put in memory cards. As you may remember all of our posts, and photographs, during the trip to and from, and while on, the rally were created on an iPhone. The technology didn't work perfectly but it was so close we couldn't believe it. Many of the posts below were created by Helen while she was sitting in the passenger seat of the 6, traveling 40 to 60 miles per hour out in the middle of nowhere. She'd take the photos then begin to type the entries for the blog. A push of the "upload" button and 99% of the time, presto! Once or twice we had trouble getting cell service so we had to wait just a couple of minutes before we could upload. Amazing technology, we hoped you enjoyed it.
The Birmingham News: Chris Tutor is a reporter for the newspaper who joined us on the run. He is also a car nut, a techno geek, and a great guy to meet. Dave really liked the time he spent with him. The two of them were so engrossed in their conversation about iPhones and vintage sportscars over lunch the first day that we think they would have chatted all day if they had the time. He publishes a blog relating to car events in the Birmingham area and was posting via laptop during the rally. Everytime he was hanging out of the MG he was riding in trying to get THE shot for the paper we thought he was going to die. Once we found out he didn't have a seatbelt on and the door on the car wouldn't stay latched we concluded he was just plain nuts. You can view his blog and his postings during the rally by clicking here. He also put together a great video. You can see us and the 6 in it quite a few times. Just hit the "play" arrorw in the center of the screen to make it play:
British Reliability Run 2008
Did you notice the field with the hay in it at the very end of the video? We are the car right in front and if you look close you can see Dave reach over the windshield and take this picture: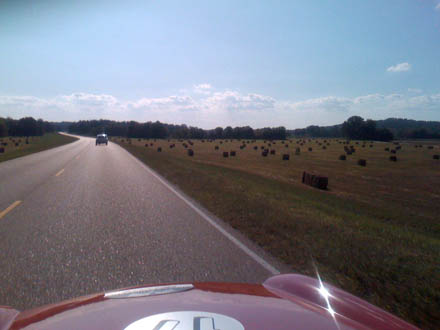 The Kids & Fundraising: The total tally isn't in yet but it looks like we're going to reach our goal and raise around $10,000 for the Magic Moments organization. Thank you! Here is a collage of a few of the photos we took during the event at the hospital. Luke, the little boy we talked about in a previous post, is in the green shirt next to the Bentley.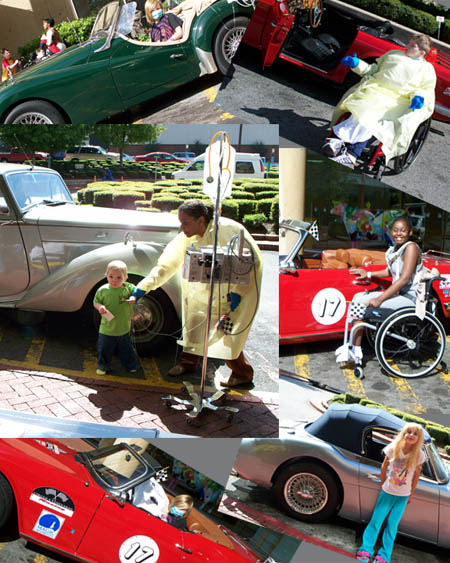 The Trip To And From: The trailer we used was loaned to us by a man we still haven't met. It tracked well and Dave's truck didn't know it was back there most of the time. We had a small problem getting the night running lights to work, but no biggie. Michael we thank you so very much.
Gas mileage was worse than we expected and therefore expenses were a bit higher. Overall we averaged 8.35 mpg in the truck. Yikes! Total mileage to and from was around 1,500 miles. It was interesting how hard it was to find fuel. We found many stations without any gas at all and many with just mid-grade. Dave actually pulled into one station and pumped 56 cents worth of fuel and then it ran dry. 
We passed a HUGE number of power company trucks heading east on I-10 on the way back. Houston must have had 1,000's of trucks come from other states to help restore power after the hurricane.
The Rally & The 6: The 6 is back home safe and parked in her spot. She's never let us down and this trip was no exception. There will be some tinkering with the transmission and hopefully only minor repairs. Overall we think it says a lot about the reliability and condition of our beloved 6 when you consider she is over 34 years old and after 600 hard miles through beautiful hills and countryside she delivered us back to our starting point safe and sound.
Here are a few more photos and a short video clip (hit the play button):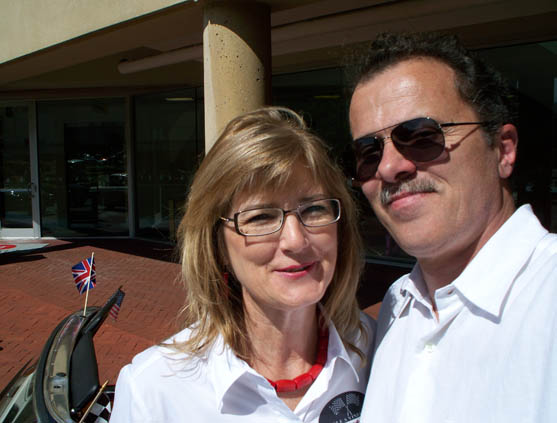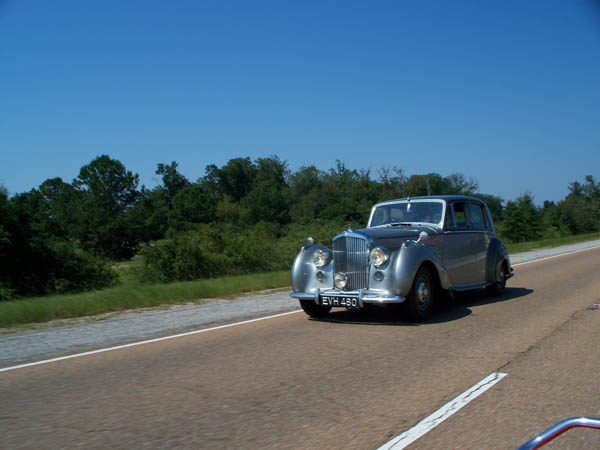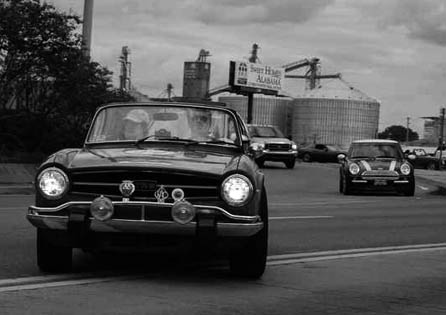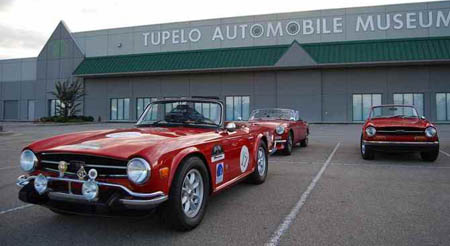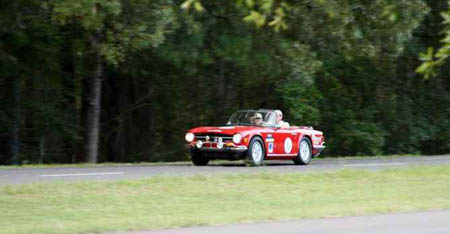 The People We Met: From Hunter's Mom who had a tear in her eye when she thanked us for cheering up her son, to John who during the rally gave Helen a small statue of an angel and said, "She's protected me for years. I want you to have her. She'll watch over you and your transmission." The crazy Germans who made the decision they were going to like us even if we were crazy Americans, the others who gave us a warm welcome and a knowing smile; they understood what it was to be far from home and unsure.
The people we met? These people are what Webster was trying to describe when he defined the words "good" and "quality". These are the people who fill hearts, and make others strive to be better.
How do you describe the feeling you have in your heart when there is an instant bond of friendship between you and another? Then how do you tell others how it feels to leave them and head back home?  
<sigh>…………….

Tags: abrr, Cars, sportscars, triumph